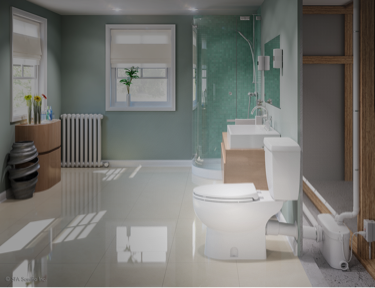 Free Shipping

Exclisive Same Day
UPS Shipping

for all order over $99

Worry Free Returns!

30 Days Returns with
the Best Support

terms and conditions apply

Contact Us!

(855) 70-FLUSH

support@upflushtoilet.com
---
SaniFlo System: How It Works
With the amazing SaniFlo systems, you can install a bathroom, kitchen or laundry room almost anywhere with minimal construction! Here is a quick video of how it all works:
Learn more about how a SaniFlo macerating system upflush toilet will allow you to install a bathroom anywhere in your home.
View FAQ's
---
Upflush Toilet Advantages
Flexible
You can put in a new toilet or full bathroom anywhere from the attic to the basement with the Saniflo macerating pump system. And unlike other systems, which need a minimum of 30 inches clearance and accessibility at all times for servicing, the Saniflo upflush unit only needs the space of a regular toilet and no servicing! 
Planning to improve your half bathroom in the basement? With Saniflo, you can upgrade your basement bathroom with upflush toilets, macerating pumps, and a shower installation.
 Cheaper
Your labor costs are a fraction of traditional sewage tank/lift pump installations. Your floors stay intact. No breaking. No mess. No plumbers coming in for weeks with the house ripped apart.
 Quicker
With a Saniflo upflush toilet, you can have a whole new bathroom in less than one day! Since you only need a small diameter pipe, which can be run virtually anywhere, in six to eight hours, you're all set. Installing SaniPLUS in your new basement bathroom won't give you a headache. It can even take less than a day to install upflush toilets, macerating pumps, and pumps.
 Movable
Moving these units to another location is no problem since their "footprint" is rather small. You can easily take it out and move it, leaving only four tiny holes. Thus, you can bring your basement toilet investments into your new home. Plus, your new home will enjoy Saniflo's state-of-the-art macerating toilets and pumps.
---
Read More...
Basement Toilets that Flush Up: A Saniflo Overview
If you've ever heard of Saniflo, you know it's the gold standard in quality and reliability for upflush toilet systems, standard toilets, and macerating pump systems.
Offering a wide selection of macerators, including upflush toilets, gray water pumps, heavy-duty grinder pumps, holding tanks, self-contained macerating toilets, marine and RV toilets, and condensate units, Saniflo is the go-to for households that want the installation of an extra bathroom but aren't interested in laying expensive plumbing to facilitate it.
Eco-friendly, affordable, and simple to install, Saniflo's products like SaniPLUS, SaniACCESS 3, and many more offer simplicity, accessibility, and quality in one elegant package. Saniflo can make the installation of fixtures in your basement toilet easy and hassle-free.
But what makes Saniflo unique, and why should you consider purchasing one of these units for your home?
Here's a brief overview of Saniflo:
The History of Saniflo
SFA Saniflo is more than 50 years old. Born from the mission to make adding an additional bathroom simple and economical, Saniflo was a pioneer in the plight to allow any homeowner anywhere to add the kitchen, bathroom, and utility facilities they want, wherever they want them.
The biggest factor that allowed Saniflo to emerge as a leader in simple bathroom installation was its invention of the now-famous macerating toilet system for home waste water management. Unlike traditional toilets, which discharge waste gravitationally, Saniflo macerating toilet units discharge waste to the back of the toilet. The solid waste then lands in a macerator pump, which grinds the sewage and waste into a fine slurry. Next, it can then be pumped upward and into the home's existing stack.
Saniflo's macerating toilets and upflush toilets are affordable and easy to install and don't require a homeowner to rip up their flooring or install expensive plumbing to make the unit work. Our customers routinely report installation savings of over $9,000 by leveraging the Saniflo upflush system.
In addition to convenience, Saniflo is known for its durability, power, quality, and advanced technology. All of Saniflo's many products, like SaniPLUS and SaniACCESS 3, comply with strict approval processes and advanced technical requirements, so they are some of the best units you can introduce into your home, business, or rental building.
In addition to producing macerators and pumps specifically for upflush toilet systems, Saniflo also specializes in a wide assortment of gray water pumps and grinder pumps, as well as condensate removal and discharge pipe systems. The full line of pumps makes it easy to install something simple like a wet bar.
The Saniflo Promise
Saniflo takes the process of maintaining its excellent products seriously. To this end, the company's R & D team is consistently working to innovate a suite of high-tech products that meet the strictest environmental and technological standards of the industry.
This insistence on quality has allowed Saniflo to emerge as a leader in the field of bathroom and toilet technology and to produce a truly versatile group of products well-suited for everything, from home to commercial use. In fact, the brand's grinders and pumps are even used on boats and in multifamily housing!
With every product, Saniflo is deeply committed to the ideals of innovation, efficiency, quality, and user-friendliness.
Why Choose a Saniflo Unit for Your New Bathroom?
The Saniflo system is a unique one. Cost-effective, easy to install, ideal for a variety of households, and well-suited to both half bathroom and full bathroom additions, the Saniflo brand doesn't require expensive plumbing, costly installation, or timely remodels. Other than just wanting to save $10,000 on a new bathroom, here are a few additional benefits of choosing a Saniflo unit:
Flexibility. Want to add a basement bathroom, half or full? Or in the attic, for that matter? Regardless of what you're facing, Saniflo has a unit that's the perfect option for you. Unlike traditional toilet systems, which require a large clearance area, the Saniflo system uses a minimal amount of space and can go virtually anywhere in the bathroom. Half or full bathroom renovations and installations will be easier for you and the family.
Affordability. The Saniflo system is affordable to purchase and install. In addition to the fact that labor costs are far lower than those associated with a traditional toilet install (especially since you don't have to hire a plumber), the Saniflo system also allows you to install a new toilet without demolishing the current floor area, creating a huge mess, or dubbing a portion of your home a construction zone.

All these help keep more money in your pocket. All your installation needs from the water pipe, macerator toilet, toilet tank, water supply, and shower will be done at a low price.
Simplicity. The installation of a Saniflo unit is simple and straightforward and can be completed, from start to finish, in about six to eight hours. Chalk this up to straightforward design and a small-diameter pipe! You can use your basement bathroom with an upflush toilet, shower, pump, and sink within a day or two.
Movability. If you're planning to sell your home or move in the upcoming years, you can take your Saniflo toilet with you. This obviously isn't true for traditional toilet units.

Luckily, this capability allows you to take your investment to your new home and keep using the Saniflo system you enjoy so much. So there's no need to worry about leaving your basement toilet upon moving out. Take your upflush toilet anywhere, and enjoy its convenience wherever you go.
The Best Saniflo Toilets on the Market
If you're considering purchasing a Saniflo unit for your home, you'll want to spend some time reviewing the various options. Right now, these five Saniflo units are the best on the market:
SaniPLUS
SaniBEST Pro
SaniACCESS 3
SaniACCESS 2
SaniCOMPACT
Each unit offers different features and functionalities. Learn more by finding the unit you're interested in on this handy chart:
Unlike many other brands on the market, Saniflo makes it possible to purchase the macerator pump alone or to buy the entire macerating toilet unit plus a toilet kit, which includes the tank, pump, and bowl.
As you decide on the unit you want to purchase, you'll also have the chance to choose Saniflo accessories, including extension pipes and alarms, although those are optional additions.
Our macerator can pump from 15 feet upward and downward to the sewer line and septic tank or 150 feet horizontally. Don't worry about your bathroom floor. We'll leave it as it is. Even if your flush toilet is in the basement, our Pro products can pump up easily while you're enjoying your toilet seat like a king would on his throne.
Saniflo: Your New Bathroom's BFF
A new bathroom means a new Saniflo unit. Ideal for virtually all installations and ideal for a vast selection of uses, the Saniflo Toilet is one of the most flexible, affordable, and straightforward upflush toilet units on the market.
Whether you're looking to install a new bathroom in your basement or turn a half bathroom into a full bathroom, complete with a shower, sink, and toilet kit, Saniflo has a product for you.
Durable, designed to last, and easy to install—even without the help of a plumber, the Saniflo toilet is a welcome addition to the world of upflush toilets at large and is an exciting upgrade to your home, office, or rental space. If you want to install a basement toilet with flush, sink, and a macerator pump system, you can use Saniflo's innovative products.
To learn more about the Saniflo toilet line or to find out which unit is right for you, check our Upflush Toilet product finder quiz.
You can also contact our team of customer service representatives, who will be more than happy to help you find the perfect toilet system for your purposes, whatever they may be. Ask about toilet seat quality, check our specs, and ask any information about our upflush toilet for basement use.