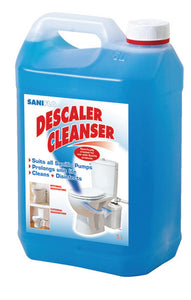 Saniflo Descaler Solution
Availability: In stock- ships same day
Shipping: FREE SHIPPING 2-5 Days UPS
Tax: No Sales Tax save up to 10%
Type:   Accessory
Product #: 052
Ideal Use: Cleaning Purposes
Features and Benefits:
Prolongs Saniflo macerating pump's life-span
Product Includes:
Saniflo Descaler Fluid - 1 Gallon (2 uses, 1/2 Gallon per use)
Product Description:
Keep your supply closet stocked with this descaler fluid and you will never be caught off guard by an avoidable macerator malfunction. This bottle contains more than a full gallon - giving you two full uses of this powerful descaler that is needed to remove the hard water mineral deposits that naturally build up on the macerator over time.
Safe to Use with Saniflo Pumps
This descaling fluid has been specially formulated by Saniflo to be used at regular intervals with all of their different lines of gray water pumps, self-contained macerators and external macerators. This descaling fluid will not cause damage to your Saniflo unit.
Formulated with Phosphoric Acid
Clean and disinfect simultaneously thanks to the phosphoric acid formula, a completely safe, odorless process that removes any rust that may have formed on macerator blades and other apparatuses.
Easy to Use
Clean and maintain your macerator or effluent pump with this descaling fluid. It is as easy as pouring approximately half of the bottle into the toilet bowl every 6 months, or as needed. The bottled is designed to make handling and storage easy.