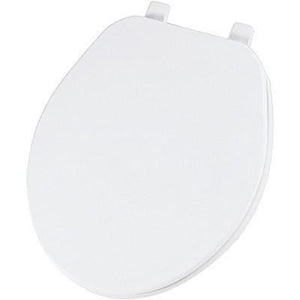 Bemis 70-000 Toilet Seat
Type: 
 Premium Toilet Seat
Product #:
 70-000 or 170-000
Ideal Use:
 Round or Elongated Toilet Bowl Seat
Features and Benefits Overview:
Durable plastic construction

Easy installation and maintenance
Made with environmentally friendly materials and processes
Resistant to staining, fading, chipping and peeling

Product Includes:
One (1) Round front or Elongated front seat with lid

Options Include:
Size: Round front or Elongated front
Color: White ONLY
Warranty: 1-Year Full Manufacturer Warranty

Product Description:
This Bemis toilet seat is made from resilient plastic that resists wear, chips and stains. The seat has easy installation with Top-Tite hinges to ensure easy installation and secure fit. The color-matched bumpers and hinges accentuate your bathroom. Other benefits include:
Easy to Clean. A soft, damp cloth is all you need to keep the Bemis clean and smooth over a period of time. The Bemis toilet seat is designed for easy removal for deep cleaning— simply twist the hinges to remove the seat while the bolts remain on the toilet.
Easy Installation and Maintenance. The unit comes with easy-to-remove plastic hinges that attach to the toilet bowl using a set of bolts. The plastic hinges do not produce any sound when the lid is opened or closed.
Damage Resistant. The Bemis 70-000 toilet seat features bumpers that protect the seat from damage. The seat is made from a resilient plastic material that is resistant to scratching, staining and chipping.